Denmark always has had a very active BMX scene, especially for being such a small country. However, never before a full-length BMX DVD has been released. A group of BMX enthusiasts from the small city of Aalborg decided to change this released "Stop Thinking". The main man behind the lense, Lasse Christensen, took two years to film his friends and the result speaks for itself. Mange tak!
LASSE CHRISTENSEN INTERVIEW:
Hey Lasse, what's up? To start things off, please introduce yourself and your crew.
Hey, my name is Lasse Christensen, I'm 25 years old and I've been riding BMX for 7 years. Before this project I've made some smaller BMX edits. Other than BMX I work as a bike mechanic in Aalborg, I also love taking photos and making videos. My crew is some of my best friends, more like a family, we ride on a daily basis and do everything together.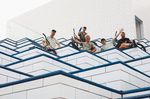 Whats the scene like in Aalborg these days?
It's alright, we are a lot of younger riders sessioning on a daily basis. The old boys come out from time to time, not as much as they used to. They are still shredding, though.
And how about Denmark in general?
Denmark is awesome! A lot of people riding all over the country, of course in the cities like Copenhagen, but also in the smaller towns. You often find a guy with a BMX and a car ready to drive anywhere to meet and ride new spots.
"Denmark is awesome!"
How does everyone stay connected?
First of all we have a lot of Facebook chat groups, where everyone is welcome, and we also text daily about sessions going down. Besides that we have the street jams and other small competitions, where people show up and get to know each other. CPH Street Jam is the place to be, that's where you meet new and old friends.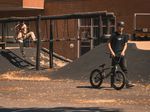 Where does your crew go to ride?
In Aalborg, we mostly ride or meet up at Sauers Skatepark. It's an old skatepark in the middle of Aalborg. Even though it's old, we still love to go there. But we're also often packing the car and going to a lot of different skateparks and spots around the country.
What made you decide to film a full-length video?
It was something we talked about in the group a few times, but we have always wanted to do something like this. It just never worked out, but this time we all agreed that we would give it all we had, so we set a date for 2 years of filming.
"We have always wanted to do something like this."